From an old issue of the Late Great Chevy magazine:
The first Late Great Chevy Convention I attend was in Memphis, Tennessee in 1985. For those of you that still have your Late Great Chevy magazine from the convention, you can see how my car looked in the summer of 1985. Along with the "Chevy Review" picture was a comment I made then, that someday my car would look just as it did when my father purchased it in 1962.
My 1962 Impala Super Sport Convertible was originally purchased in Hollywood, CA, by my dad in April 1962. I was home from college for Easter break. Sandy and I drove him to the dealership to pick it up. Sandy and I were married in September 1962 and my dad let us take his car on our honeymoon.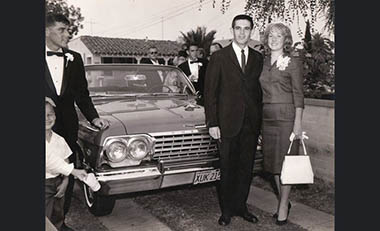 Dad was very particular about the car and did most of the work it himself. He replaced the original 327 cubic inch engine after 165,000 miles because he blew a rod driving on a Los Angeles freeway. My dad and brother went to a local junk yard and bought a 1967 327 engine that was put in the car. That engine went another 85,000 mile before I replaced it with a correct date coded 327 engine.
Dad passed away in 1974. My mother and sister drove the car until about 1978 when the car was in a minor accident that bent the right arm assembly. The car sat for awhile until it was sold to a neighbor for $300. The neighbor repaired the car and drove it for a couple of years. I went to Los Angeles in 1980 to visit my mom, and the neighbor had Dad's car for sale. I knocked on the door and purchased the car on the spot for $2,500. After some discussion on how I would get the car to Dallas, the neighbor agreed to tow it from Los Angeles to Dallas for an additional $400. I agreed and he delivered the car to me in Dallas a few weeks later.
In the early 1980s we joined the Vintage Chevrolet Club of America where we met a couple who belonged to the newly formed Late Great Chevys of Dallas. We joined the club and began attending meetings. We enjoy sharing our "car interests" with other members.
My first Late Great Convention was the Regional in Memphis, TN, in 1983. Sandy and the kids stayed home. They thought this was a "man with his car thing." I drove with the top down for 450 miles from Dallas to Memphis in 107 degree weather. I stopped only for liquid refreshment and gasoline. I met some really great people in Memphis. Many of them are among my Chevy friends today. I also learned a lot about not only my car, but other Late Greats. I realized that the Late Great Chevy people were not just "men doing their car thing," but was an organization the whole family could enjoy. I enjoyed the convention very much! When I arrived back in Dallas, I was as red as my car. I came away from that convention with a determination and commitment to make my car more competitive the next summer when the 1984 International Convention would be in Kansas City, MO.
I took the Convertible apart and performed a pretty good from-up restoration. I cleaned dirt from placed I didn't know were there the month before. By the time we left for Kansas City, my car was a lot nicer than the year before. Sandy and our youngest daughter Robyn, decided to come to this convention – we all had a good time! Several other members of the Dallas Chapter also attended the Kansas City convention.
Since Kansas City in 1984, Sandy and I have attended all of the Late Great International Conventions. Our youngest child, Roby, also attended all the conventions until she entered college and elected to go to summer school. I have driven the car to all of the conventions except New York. Sandy followed me in a van on all the trips and Robyn took turns riding with each of us.
At the 1985 Atlanta Convention, I met Jack Woodard of Big Stone Gap, Virginia. He had a car exactly like mine, except with a red interior. He had restored his car in a way that I would like to have mine done. I spoke with Jack for several years about performing a frame-off restoration of my car. Finally after Richmond in '93, Jack and I agreed I would take the car to his house in Big Stone Gap, Virginia, and he would restore it. The Convertible was completely disassembled and every part was plated, blasted, beaded, painted, chromed or replaced. A new Convertible top was installed and most of the interior was replaced in order to make my car one of the nicest 1962 Chevys around.
Since the restoration was not completed in time for the '94 International Convention in Kansas City, Sandy and I attended it without a car of child. We had a great time with more than 30 members of the Late Great Chevys of Dallas attending the Convention.
Jack Woodard completed the restoration in February, 1995. I had enclosed the trailer built and I headed off to Virginia to pick up the car. When I first saw the car it really reminded me of the first time I saw it… and I know my dad was smiling too.
The first car show it competed in was the '95 Late Great International Convention in Reading, Pennsylvania. The car looked great! It won First Place in the Trailered Restored Original Class, and was awarded a Gold Certificate for scoring 961 points. Shortly thereafter we attended the Late Great Regional Convention in Tulsa, Oklahoma, where it was again awarded a Gold Certificate and scored 981 points. Jack did a masterful job of restoring my car. I am very proud of it!
The Convertible is somewhat unique because it has so many original options. The car has a factory air conditioning, power brakes, power steering, power windows, 300 horsepower 327 cubic inch engine, tinted glass, dual-speed wipers and washers, push-button radio, one piece California bumpers, bumper guards, automatic Powerglide transmission, and of course, the Super Sport option.
I have thoroughly enjoyed my relationship with all the Late Great Chevy people through the years. I would like to thank Jack Woodard and all the individuals that assisted him with restoring my car, not the least of which are the many professional people at the Late Great Chevrolet Association in Orlando, FL. Also a special "thank you" to all the members of the Late Great Chevys of Dallas for their friendship, encouragement, and assistance.
I'm handing my son the keys to take the Impala on his honeymoon in 1998: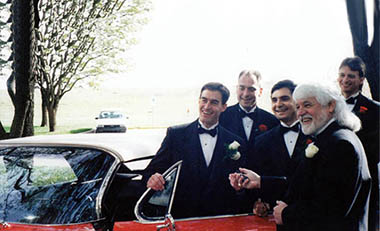 I drove my daughter from her wedding in 2001: